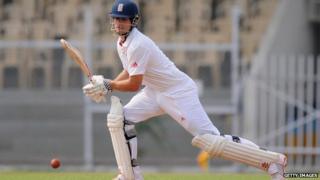 Alastair Cook has set a record for England Test centuries with his 23rd hundred.
At 27 years old, he's also the youngest batsman to reach 7000 Test runs, knocking India's Sachin Tendulkar off the top spot.
Cook, who kicked off his career with a hundred against India in 2006, has now scored centuries in all five of his Tests as captain.
Celebrating the record, Cook looked to the sky and punched the air.
It happened on the second day of England's third Test against India.
The four match series is currently tied at one all.