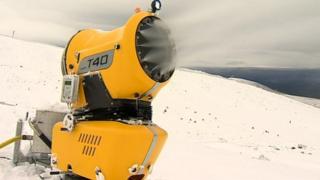 Skiing season starts in Scotland
Two of Scotland's five ski resorts have opened early because of the recent snow.
The Cairngorms range has had snowfalls since October and this week's cold snap is bringing in the business.
But the recent weather hasn't stopped one centre from installing snow cannons - just in case!
Last year there were lengthy spells without any snow, despite successful ski seasons in 2009 and 2010.
The Met Office, who keep an eye on the UK's weather, says snow is set to bring disruption to most of Scotland and parts of northern England on Thursday.
It has issued an amber warning which means 'be prepared'.