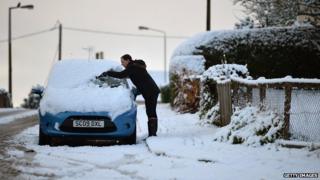 Getty Images
Snow has fallen in many parts of southern England and north-eastern Scotland today.
Essex has been the worst affected, with dozens of schools forced to close and travel disruption on the roads.
Flights were also delayed for a short time while airports across the UK tried to clear their runways.
Weather forecasters warn there could be further snowfall overnight across Scotland and parts of northern England.
Check out these pics from the BBC's heli-cam across Hertfordshire...