West Ham has been named as the favourite bidder to move into the Olympic Stadium in East London.
Whoever takes over the stadium will have to contribute towards the cost of a full roof and changing the seating.
The stadium cost £429million to build for the Games but there is still a lot of building work to do.
Future of the stadium
Olympic venues in Beijing and Athens have been abandoned and the London Legacy Development Corporation (LLDC) doesn't want that to happen in London.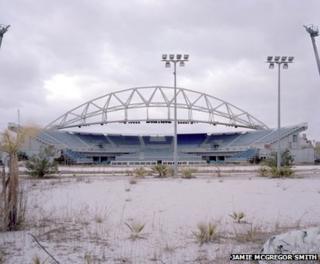 jamie mcgregor smith
They want to mirror the success of the Olympic Park in Sydney, Australia which has turned into a business and entertainment park.
Dayne Glinkowski, who lives nearby, told Newsround: "Rugby games are held in the stadium every week and the Superdome hosts some of the biggest concerts in Sydney."
New seating
The LLDC say the athletics track has to stay in place even if a football club buys the stadium. West Ham would probably prefer their fans to be closer to the pitch so removable seating will have to be brought in too.
Special agreement
The Mayor of London, Boris Johnson, wants West Ham's owners to agree special terms if they buy the stadium. They could sell the football club in the future - including the stadium - and make a big profit. Since the stadium was paid for by the public, the Mayor wants the owners to agree to give some money back if they sell the club.