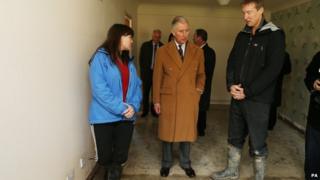 Prince Charles has met victims of flooding in St Asaph in Wales, a week after 400 homes were left under water.
The tiny city was hit by devastating floods when heavy rain caused the River Elwy to burst its banks.
Flood victim Anne Hughes said, "I think it's lovely that he's made the effort and showed support for us."
The prince's visit comes as the government promised to look at stricter controls on building houses in areas which are likely to flood.