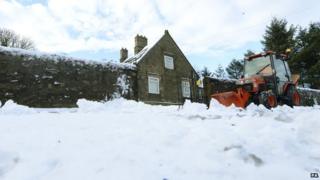 Lots of people woke up to a snowy scene in their garden this morning after winter weather overnight.
Did it snow where you are?
Did you make a snowman or throw a few snowballs?
We want to see your snowy and frosty pics.
Remember - if you or your mates are in the picture we need to check it's OK with your mum and dad so please include a contact telephone number for them.
Send them into NewsroundPix@bbc.co.uk.
If you send us a picture, it may be published on the Newsround website, and some pictures may be used in our TV bulletins. We'll use your first name, your age and your home town to show that it's your photo; your personal details won't be used for anything else.