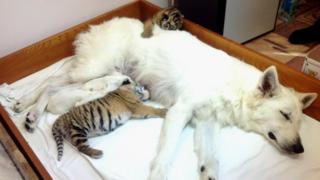 Video: Dog adopts abandoned tiger cubs
Three baby tigers abandoned by their mum at a Zoo in Russia are now being looked after by a dog called Tally.
It's not the first time the tiger had left her cubs so Zoo owners knew they had to find another animal to feed them.
They put out an advert on the internet to ask for a dog that could help out.
A dog called Tally has adopted the cubs even though she is pretty busy with her own pups.
Vet Natalya Stepanova said: "The dog has got 9 puppies, who were born one week later.
We were afraid that she will not accept the baby tigers, but she treats them the same way as her puppies."