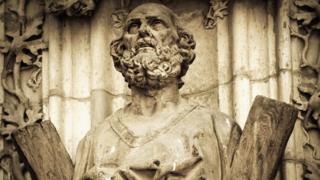 Getty Images
It's St Andrew's Day on the 30 November. He is the patron saint of Scotland.
He is also the patron saint of Romania, Greece, Russia, Ukraine and Poland.
Patron saints are chosen to be special protectors or guardians over things.
England, Ireland, Scotland and Wales all have their own patron saint, to whom they dedicate a day.
We don't actually know a lot about St Andrew.
It is believed that he was born between the years 5 AD and 10 AD in a place that is now part of Israel.
According to Christianity, he went on to become one of the 12 disciples of Jesus Christ. The disciples were 12 people chosen by Jesus to closely follow him.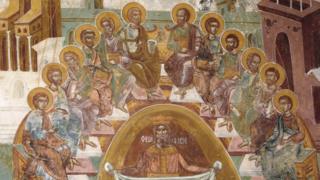 Getty Images
Andrew's brother, Simon Peter, was also one of the disciples. They both lived in Galilee, where they were fishermen.
Funnily enough, St Andrew never actually stepped foot in Scotland his whole life!
So why is he the patron saint of Scotland?
There is no clear tale that answers this question.
One story says that in the 9th Century, King Angus in Scotland was preparing for a battle against the English.
St Andrew appeared to King Angus in a dream promising him victory and on the day of the battle, an X symbol appeared in the sky, which was the symbol of St Andrew.
He vowed that if they won, St Andrew would be made the patron saint of Scotland - and that is exactly what happened.
This is why the Scottish flag has the X-shaped cross on it, as it is St Andrew's symbol.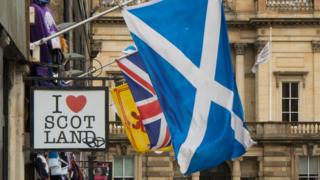 Getty Images
Mythology claims that it goes back further than that.
The story says that Scottish people are descended from an ancient population called the Scythians, who lived on the Black Sea (this is now Romania and Bulgaria), who St Andrew converted to Christianity.
St Andrew was officially named the patron saint of Scotland in 1320.
How do Scottish people celebrate St Andrew's Day?
Scottish people may celebrate St Andrew's Day in different ways, but this year will be slightly different.
There are also St Andrew's societies all over the world, which mark the occasion in their own countries.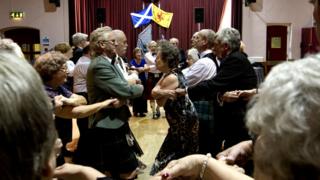 Colin McPherson
Normally, celebrations might include a special type of party called a ceilidh - pronounced "kay-lee" - where people do Scottish country dancing.
However for 2020, events will be different and much smaller because of the coronavirus pandemic, with most Scots celebrating in their own homes or joining parties online.
But, traditional food can still be eaten, such as cullen skink - which is a type of fish soup - or lamb.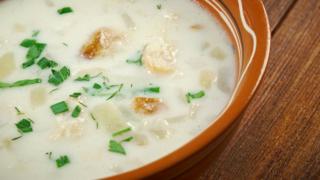 Getty Images
St Andrew's Day is also a holiday in Scotland. It is not a law that everyone has the day off work, so some people will still go to work!
Despite St Andrew's Day being the day of their patron saint, most Scottish people celebrate Burns Night (25 January) and Hogmanay (New Year) more.