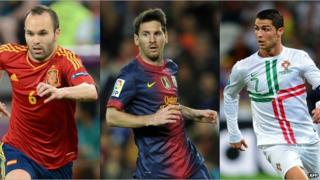 Either Real Madrid's Cristiano Ronaldo, or Barcelona stars Andres Iniesta and Lionel Messi will be named as 2012's best football player in the world.
All three are shortlisted for this year's Fifa Ballon d'Or award.
Messi has scored 82 goals so far this year, but Ronaldo is close behind.
He scored 60 goals in all competitions last season, helping his club Real Madrid win the Spanish league title and reach the last four of the Champions League.
But if Messi wins again, it'll be for the fourth year in a row - a record that would surely not be beaten for many years.
Iniesta's also in with a good chance, as he was named as the best player of Euro 2012, which his club Spain won.
Wayne Rooney was the only Brit nominated, but didn't make the final three.
Fifa will award the prize in January.