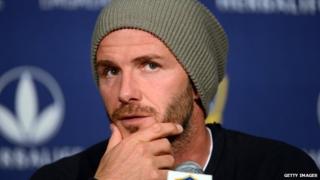 David Beckham is set to begin talks with French side AS Monaco, as he looks to carry on playing football after his American adventure.
Becks is currently playing in the USA for the LA Galaxy, but he says he'll leave the team after his final game for them on Saturday.
A.S. Monaco, who play in the French second division, want Beckham to help bounce them back to the big time.
The 37-year-old is understood to be open to a move.
Monaco chief executive officer Tor-Kristian Karlsen told BBC Sport: "We are happy with our current squad. But if there's a chance to get a player of Beckham's stature, we'd be foolish not to explore it."
The former England captain, who has attracted interest from clubs in Russia and Brazil, plans to make a final decision on his future by the end of the year.