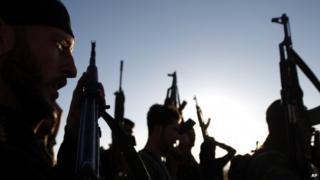 Syrian rebel fighters have been accused of using children as young as 14 in the war there.
US-based organisation Human Rights Watch spoke to five boys aged 14-16, who said they worked with rebel forces battling to overthrow Syrian President Bashar al-Assad.
The boys claimed they had carried weapons and acted as lookouts.
One 16-year-old even said he'd been given military training and taken part in an attack.
Majid (not his real name) said: "I used to carry a Kalashnikov [rifle]... I used to shoot checkpoints... to capture [them] and take the weapons.
"They taught us how to shoot, how to dismantle and put together a weapon, how to target."
Human Rights Watch has called on the rebel fighters to commit to not using anyone under 18, even if they volunteer themselves.