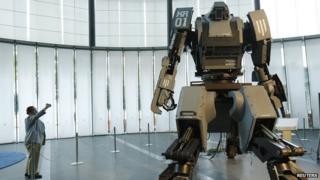 Kogoro Kurata grew up watching futuristic robots in movies and animation, wishing he could bring them to life.
Now, his childhood dream has become a reality as he's built a massive robot that he can control.
His 4-tonne, 4-metre tall Kuratas robot has a built-in pilot's seat and hand-held controller.
It lets him move the robot's massive arms, and make it walk at speeds of up to six miles per hour.
"The robots we saw in our generation were always big and always had people riding them," said Kurata, who's a 39-year-old artist from Japan.
His robot also comes with an operating system that allows people to control it using a mobile phone.
It's not cheap though. One of Kurata's robots would set you back 110 million yen (well over £800,000).