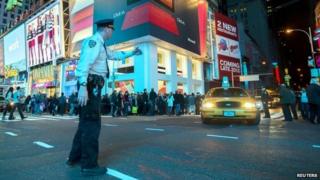 New York City has had an entire day with no violent crime for the first time in living memory.
No stabbings, murders or muggings were reported to NYC's police for 24 hours on Monday.
"In a city of eight million people, this is extremely rare," said police writer Thomas Reppetto.
Some people reckon it's down to officers being more active recently, and doing more stopping and frisking.
The number of murders happening in the city is at its lowest in more than 50 years.
But overall there has been a 3% rise in crime, which includes things like smartphone theft.