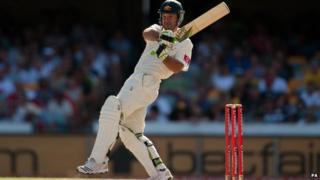 Former Australia captain Ricky Ponting has announced he'll retire from international cricket.
The 37-year-old, who is the second-highest run scorer in Test history, will play his 168th Test match in Perth on Friday.
He'll stop competing for good at the end of the third Test against South Africa.
"I haven't been performing consistently over the last 18 months," he said. "I believe now is the right time."
Tributes have poured in as people celebrate a man who's surely one of the best batsmen ever to play the game.
Ponting made the announcement at a news conference in Perth, with his wife Rianna, daughters Emmy and Mattise and every member of the Australia team by his side.
The series is level at 0-0 going into the third and final Test, and Ponting is determined to end his international career with a 109th Test victory to get Australia back at the top of the world Test rankings.
He said: "I'm hungrier than ever. I want this win more than any game I've ever played in."