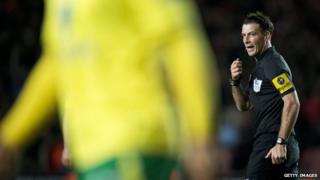 Mark Clattenburg was given a warm welcome as he returned to refereeing on Wednesday.
It's after the 37-year-old was cleared of racially abusing Chelsea's John Mikel Obi.
A month after taking charge of his last game, the 37-year-old was on the pitch for the 1-1 Premier League draw between Southampton and Norwich.
He was given a standing ovation by both sets of supporters before the match.
'Excellent referee'
Chelsea say they "regret" the way they handled their accusation that Mark Clattenburg used racial language.
The claims were dismissed by the Football Association and the police.
Both Saints manager Nigel Adkins and Norwich boss Chris Hughton said they were glad to see Clattenburg him return.
"He is an excellent referee, and I speak for most when I say we are delighted to see him back," Hughton told BBC Sport.