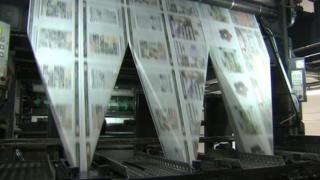 Leveson report published today
The findings of a big inquiry into the way newspapers are run in the UK will be published today.
It's after some journalists were accused of illegally hacking people's phones and listening in to private voicemails.
In July 2011, Prime Minister David Cameron announced that the Leveson Inquiry would be set up to look at whether any changes needed to happen to the way British newspapers work.
Hundreds of people including celebrities and politicians have given evidence about how they've been treated by the press.
The inquiry has been led by a senior judge, Lord Justice Leveson.
In his report he's expected to be very critical of the behaviour of some parts of the press.
He's also likely to ask questions about whether senior politicians got too close to newspaper owners over the years.
One of the big talking points is whether a new law should be passed by parliament to make sure newspapers are more closely monitored.
Some think this would be the only way to make sure phone hacking never happens again.
But others think it's really important for newspapers to be free of political interference.