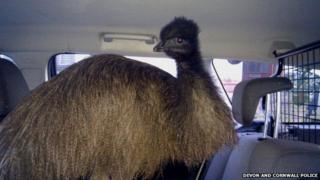 An escaped emu has been captured by police in their patrol car after it was spotted in a north Devon town this morning.
The 1.2m tall bird was first seen in Barnstaple, and then picked up by officers at about eight o'clock.
The bird was in a "state of panic", but the police managed to get it into their car and contacted the owner.
Police said the privately-owned animal escaped from a local house and the owner wasn't sure how it escaped.
One of the police officers said it was an unusual situation, because they "never had training for dealing with an emu"!
She said: "It was a bit scared and it made a mess in the car, but the owners offered to clean it up afterwards.
"It's been the talk of the town. Everyone was taking photos."