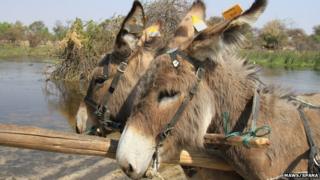 Donkeys in Botswana, Africa, are getting glow-in-the-dark ear tags to help prevent road accidents.
Five hundred of the animals are getting tagged in the south African country so that vehicles can spot them, when they're roaming around for food.
Currently about one in 10 road traffic accidents in Botswana are caused by domestic animals such as donkeys.
A British charity - the Society for the Protection of Animals Abroad - is funding the project.
They hope the idea will help save lives and prevent injury to donkeys as well as vehicle drivers.