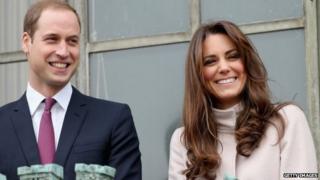 The Duke and Duchess of Cambridge have made their first visit together to the city of Cambridge, home of their dukedom.
Prince William and Kate Middleton were made its Duke and Duchess by the Queen when they got married, but they hadn't visited together until now.
People in the famous university city of Cambridge were excited and hundreds of well-wishers gathered on the streets.
The couple are opening a 24-hour centre for homeless people during their visit.
They'll also be watching a drama, music and dance presentation by kids from a local school.