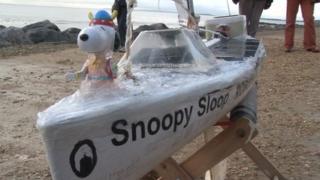 An unmanned boat has crashed on its bid to cross the Atlantic Ocean - just hours after it set off!
The Snoopy Sloop set sail from Hampshire on England's south coast on Tuesday, but smashed into rocks off the Isle of Wight.
The 1.5m long boat was built by retired scientist Robin Lovelock, who blamed the crash on a strong tide.
It was designed to use a satellite tracking system to guide it on the 5,000-mile journey to the Caribbean.
It's thought no unmanned boat has ever managed to cross the Atlantic Ocean.
Mr Lovelock said he hoped to try and relaunch the boat on its mission, which should take around six months to complete.
He put a model of cartoon dog Snoopy on the front of the boat to show he wasn't taking the project too seriously.