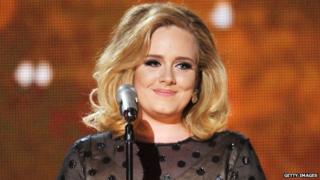 It's finally happened after nearly two years - Adele's 21 album has dropped out of the UK Top 40 for the first time.
The Brit and Grammy award-winning album has been in the Top 40 ever since it was released on 24 January last year.
It's now slipped from number 34 to number 42.
But Adele can take comfort in the fact it's the fifth biggest-selling album ever in the UK, having sold 4.5 million copies.
Get this - one in five British households owns a copy of 21!