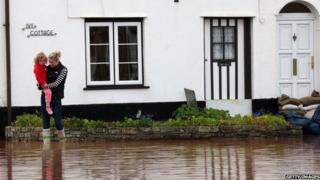 Traffic chaos as rain heads north
Heavy rain and flooding are causing problems for people travelling around north-east England and north Wales as the storm hits.
Lots of roads have been closed because of flooding and some trains have been cancelled or delayed.
There are about 200 flood warnings and 300 alerts are in place in England and Wales.
Ricky's been in Burton-upon-Trent in Staffordshire - which has a flood warning in place - to see how people are trying to protect themselves from the threat of rising water.