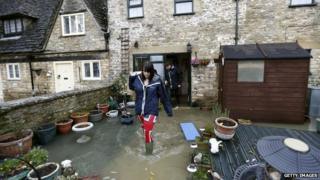 If heavy rain is coming your way, it's best to be prepared so that you can help protect yourselves, your pets and your homes. Here are five top tips to do just that...
1. Don't play in flood water
Just 15cm of fast flowing water can knock you over. The water may be also be contaminated and hide hidden dangers.
2. Sign up to the flood warning service
Get your parents to sign up to a free flood warning service through the Environment Agency - the part of the government that deals with flooding. The service gives you advance notice of when flooding is likely to happen where you are. This means you have time to prepare.
3. Check the latest flood situation online
Keep an eye on the Environment Agency's website for the latest flood updates.
4. Make a flood plan
Making a flood plan will help your family decide what practical actions to take before and during a flood e.g. helping your elderly relatives, switching off electricity, water and gas supplies, and moving items to higher parts of the house - this will help reduce the damage flooding could cause.
5. Prepare a flood kit of essential items
Keep essential items like a torch, waterproof clothing and precious personal items close to hand. And a waterproof bag to keep them in!
Source: Environment Agency