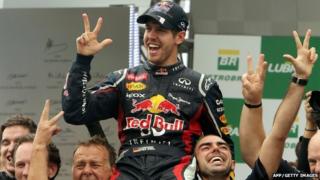 Red Bull driver Sebastian Vettel has won the Formula 1 championship for the third time.
He finished sixth in the Brazilian Grand Prix, the season's final race, to beat Fernando Alonso to the title.
Vettel said: "For all of us in the team, also for myself, it's unreal you know... actually I think my radio wasn't working, I was crying, but you didn't hear that!"
He's only the third person to win the title three times in a row.