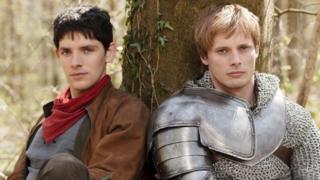 Bad news, Merlin fans - the young wizard is casting his final spell as TV bosses announce the current series will be the last!
The fantasy drama will end this Christmas with a two-part finale.
Merlin bosses Johnny Capps and Julian Murphy said: "We always felt the story of the legend was best told across five series, leading to a spectacular finale."
The show first hit our screens in 2008.
Colin Morgan, who plays Merlin, said: "I think the show has run its natural course.
"The show has grown and grown each year and now we've arrived at its strongest point and we've achieved what we set out to do... it has been a lot of fun!"
But there is some good news as there are already talks of doing a trilogy of Merlin movies!
Merlin centres around a young wizard living in Camelot and working as King Arthur's manservant. He secretly uses his magic to keep Arthur and the kingdom safe.
It's been regularly watched by an average of six million viewers on BBC One. It's also shown on CBBC.