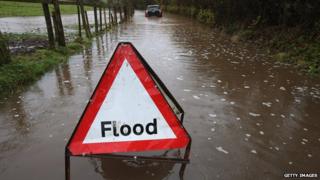 Heavy rain and high winds this week have caused flooding in many parts of the country.
Over 300 people have had to leave their homes because of the bad weather, with schools and roads also being closed.
As of Friday lunchtime, the Environment Agency's issued over 70 flood warnings for parts of England and Wales. Scotland's also been on warnings.
Things aren't looking drier anytime soon - forecasters say that more storms are on the way over the weekend.
Have you been affected?
We want to know if you've been affected by the bad weather.
Maybe your school's been closed because of flooding? Or perhaps you've seen some massive puddles near your house?
Get in touch and let us know!
Your comments
Check back soon to see what Newsround viewers have to say.