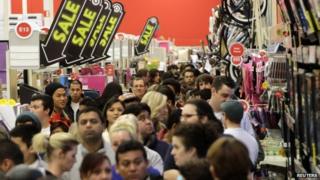 If you've heard of "Black Friday" and wondered what it is - well, it's nothing to do with that Rebecca Black song!
Black Friday is the name given to the day after Thanksgiving when shops in America slash their prices.
It's to encourage people to spend in the run-up to Christmas - and it's usually the year's busiest shopping day.
Shoppers queue up, sometimes for days, to get their hands on bargains.
Some stores open at midnight on Friday, although this year a few even opened on Thursday!
It's called Black Friday because it's often the day that many stores move into the black (which means they start making money or a profit).
The tradition has travelled to the UK - online shopping site Amazon is offering discounts.
Apple is also cutting prices for one day only, but they've called it a "shopping event" instead of Black Friday.
Supermarket Asda is doing a Black Friday weekend on their website and the Tesco site is also offering four days of deals.