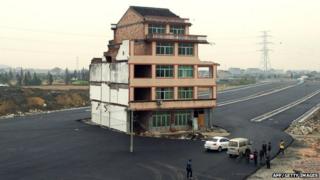 Your eyes aren't tricking you - this is a single house slap bang in the middle of a road!
It's in the city of Wenling, China, where officials have demolished a neighbourhood to make way for a new motorway.
But the couple living in this house refused to budge - saying they weren't offered enough money to go.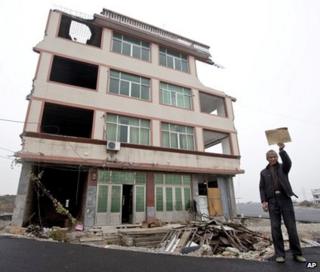 "I just want them to build another house for me," homeowner Luo Baogen, a duck farmer, said.
"They can build a house of the same size somewhere else and get it decorated as my house."
The money Mr Luo was offered was only about three times less than he'd spent on buying the house.
Mr Luo told local reporters his electricity and water are still flowing.
He also said he and his wife sleep in separate parts of the home - to stop anyone from trying to knock down a part of it.
The road hasn't been opened to traffic yet.
Situations like this aren't uncommon in China.
The city of Wenling is developing the area by building a train station, businesses, hotels, shopping malls and factories.