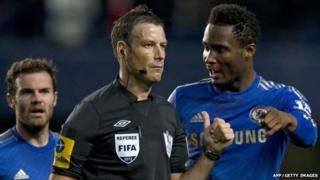 Referee Mark Clattenburg has been cleared over claims he made racist remarks towards Chelsea's John Obi Mikel.
The Blues had said Clattenburg used racial language during their home defeat to Manchester United last month.
But the Football Association has now decided there wasn't enough evidence.
In a twist, Mikel has been charged over allegations he used threatening behaviour towards the ref near the match officials' changing room.
"It is alleged that in or around the match officials' changing room at the end of the fixture, Mikel used threatening and/or abusive and/or insulting words and/or behaviour," an FA statement read.
Mikel has until next Friday to respond.
Clattenburg said it was "truly frightening" to have thought that his career might be over.
The union Prospect, which represents referees, has called on Chelsea to apologise to Mark Clattenburg and pay him some money to make up for what happened.