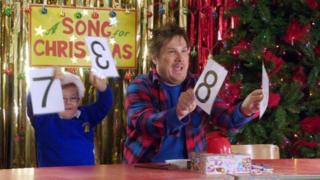 Nativity 2 is a Christmas film that follows on from the popular comedy Nativity that came out in 2009. It's a British film with many big actors including loads of kids. The film is unusual because it wasn't scripted, which means most of the movie was made up on the spot!
Check out Joe's interviews with the stars of movie - including one of its 10-year-old stars. But FIRST - here's what our movie man Joe thought of the film…
When's it out?
It's out now!
What's it about?
The story follows manic classroom assistant Mr Poppy as he tries to get his class of unruly kids to Wales for a singing competition. He breaks loads of rules and even drags along his new teacher for the adventure which is full of action, and eventually, singing!
The stars
As a British film there are loads of famous British actors like Doctor Who and Harry Potter actor David Tennant. He plays the teacher (and another surprise character!) whom Mr Poppy and the kids convince to go all the way to Wales with them. The main star of the first movie also returns - Marc Wootton - as the brilliant Mr Poppy. The other big name you might recognise is Joanna Page who plays Stacey from comedy Gavin and Stacey. Then of course there's the massive cast of kids!
Hit or miss?
It's a great family film with lots for kids to laugh at and get excited about. It's got a 'magical' donkey, loads of singing and dancing, and quite a bit of mucking about too. The first bit at the school where Mr Poppy puts his new teacher through his paces is funny, and then they hit the road and it becomes more like an adventure film.
This part goes on for a bit too long. It's meant to be just one day but it feels like at least three! But then they make it to the singing competition and it's really good. David Tennant is a brilliant actor and the good thing about this film is you can tell when he's shocked about the unexpected things the kids or Mr Poppy do!
Overall, I would say it's a good family film and better than the first one. Great to watch with your family - but maybe leave nan at home in case she doesn't like some of the naughty bits!
NR Rating: 3/5