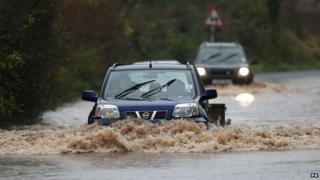 Parts of the Midlands and the south west of England have been hit by heavy rain and flooding.
On Tuesday night some motorists in Devon and Somerset had to be rescued after the roads they were driving on became waterlogged.
Schools have been closed in Devon, Worcestershire and Gloucestershire.
More weather warnings have been issued for Thursday with strong winds and more heavy rain expected in the area.
Forecasters have said that the weather isn't going to dry up any time soon, with even more downpours predicted for the weekend.