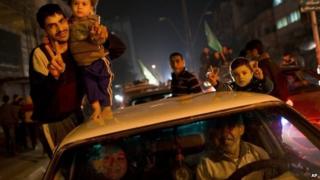 AP
A ceasefire between Israel and Hamas, the Palestinian group in charge of Gaza, has begun - and it looks like it's working.
The truce started on Wednesday night, after eight days of fighting.
Israel agreed to stop attacks on Gaza, and Palestinian fighters agreed to stop launching rockets from Gaza into Israel.
Some rockets had been fired from Gaza, according to Israel - but there was no sign of a response.
Thousands of people took to the streets of Gaza on Wednesday night to celebrate the ceasefire. They waved flags and set off fireworks.
More than 140 Palestinians and five Israelis have been killed since the fighting started over a week ago.
Israelis and Palestinians have been fighting over Gaza for over 60 years.
On Wednesday morning a bus bomb exploded in the Israeli city of Tel Aviv injuring at least 21 people.
The bomb went off as the vehicle was travelling past the headquarters of the Israeli military.