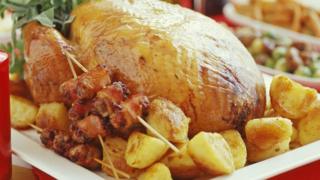 Science Photo Library
When you think of Christmas dinner, a golden turkey, yummy roast potatoes and maybe some brussel sprouts usually spring to mind.
Well one company has decided to put all of that in one little tin.
The festive feast, called a HotCan, squeezes in a turkey casserole, veggies, stuffing and chipolata sausages.
Unlike the real thing there's no need to wait hours for it to cook, the whole meal is ready in just 12 minutes.
The Christmas can heats itself using a special chemical process which triggers when you open it.
A spokesman for the company said: "Christmas Dinner will never be the same again."