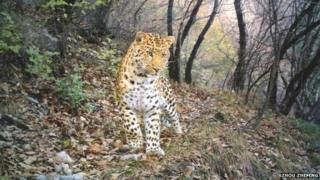 Zhou Zhefeng
This beautiful image of a rare Chinese leopard has won BBC Wildlife magazine's Camera-trap Photo of the Year competition.
It was taken by Zhou Zhefeng for a project studying leopards in forests of the Shanxi Province, China.
Zhou said: "Images from a camera-trap on a known leopard path have so far enabled us to identify four individuals, including this youngster."
The judges praised the picture's "gorgeous light, setting and pose".
Camera-traps aren't actually traps - they're cameras that keep watch on patches of land, ready to capture any animals that sneak past.