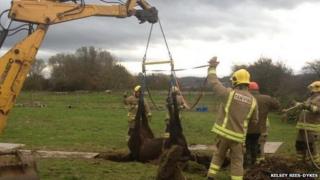 Kelsey Rees-Dykes
A horse in Wales had a lucky escape after falling backwards into a hole.
Wesley was trapped upside down for almost three hours in a ditch in a field near Conwy.
A team of fire fighters had to use a digger and lots of rope to pull Wesley out of the deep hole, feet first.
Amazingly he escaped without any injuries.
After the rescue, his owner Kelsey Rees-Dykes said "The vet said he was very lucky."
It's not the first time the nine-year-old has gone on the run, he's also been caught trying to climb through a nearby fence.