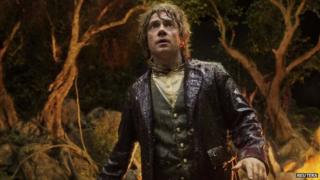 Reuters
Producers of the new Hobbit films have denied mistreating animals during the making of the movies.
The film's production team had been accused of animal cruelty by animal rights group PETA.
PETA had said that 27 animals, including horses, sheep, goats and chickens, died because of bad conditions on a farm they stayed on.
Peter Jackson has said: "No animals died or were harmed on set during filming".
A spokesperson for the fantasy films' director, Peter Jackson, said some animals had died at the farm but the deaths were from natural causes.
The animal rights group has planned to protest at the first film's premiere later this week.