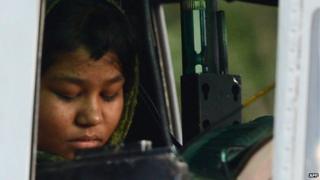 AFP
A court in Pakistan has dropped a case against a Christian girl who was accused of burning pages from a religious textbook.
Rimsha Masih, thought to be 14, was arrested near Islamabad in August and spent three weeks in prison.
It came after an angry mob accused her of blasphemy, which is a serious crime in Pakistan.
A Muslim cleric is now facing a court case for allegedly planting evidence to try and get Rimsha in trouble.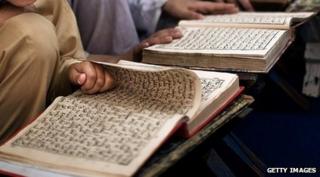 Getty Images
Since reports came out about Rimsha's arrest, people across the world have been calling for her to be released.
Doctors have said she has learning difficulties.
The outcry led to a judge granting Rimsha bail in September, which meant she could leave custody while waiting for her next court hearing.
Now the case against her has been dropped Rimsha is free again but it may still be hard for her to live a normal life in Pakistan.
Rimsha's lawyer says her family have received death threats and have been in hiding.
Blasphemy
Blasphemy, which means speaking or acting in a way that shows a lack of respect to God or sacred things, is a really sensitive issue in Pakistan, where 97% of the population are Muslim.
The country has strict blasphemy laws, which not everyone agrees on - some worry that people misuse them.