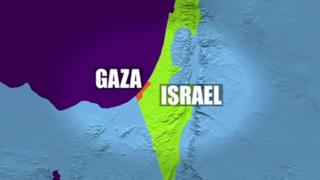 gaza map
Many of the news stories from the Middle East involve the Israelis and Palestinians.
They are fighting over control of the same piece of land and it's complicated because each side has its own version of events.
What happens here is very important to a lot of people around the world because many of the holiest sites for Jews, Christians and Muslims are in Jerusalem and the surrounding area.
To the west lies Egypt, to the east, Jordan. Lebanon is to the north and Syria to the north-east.
At the moment there is no separate state of Palestine, but Palestinians want their own country based on the West Bank and the Gaza Strip, an idea backed by an international group called the Quartet, which is leading the peace efforts.
Both Israelis and Palestinians want Jerusalem to be their capital and what happens to the city is one of the big issues. Israel is at the eastern end of the Mediterranean Sea. Its southernmost point reaches the Red Sea.