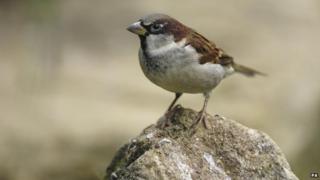 PA
The UK bird population has gone down by 44 million since 1966, according to a report.
The report, "State of the UK's Birds 2012", has been made up from volunteers' sightings of birds since the 1960s.
It found that, while certain species had increased in number, populations of some common birds had dropped dramatically.
Experts think there are 166 million birds nesting in the UK compared to 210 million in 1966.
House sparrows are among the worst hit, with numbers down by 20 million compared with the 1960s.
Birds that rely on farmed land, like lapwings, cuckoos and turtle doves, have also seen big decreases in numbers.
Some birds doing well
It's not all bad news though. The wood pigeon has doubled its population since 1970, to an estimated 5.4 million nesting pairs.
Another example of a bird doing well is the great spotted woodpecker.
But RSPB spokesperson, Grahame Madge, says that despite some good examples the overall findings of the report are worrying.
"The UK has lost such a huge number of birds, the figures themselves are quite staggering," he said.