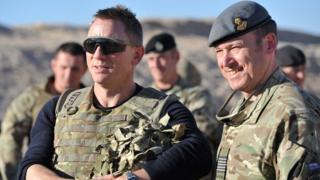 RAF
James Bond star Daniel Craig has made a surprise visit to Afghanistan to meet UK troops.
The 007 actor arrived at Camp Bastion just as hundreds of soldiers, sailors and airmen were waiting to see a screening of the new Bond film, Skyfall.
He was given a tour of the camp after saying hello to the troops and introducing the new film.
He also met staff and patients at the Camp Bastion hospital.
The star was driven around the camp by Warrant Officer Class 1 Rob Ingham, who said: "We get quite a lot of visitors here, but having James Bond was special."
Camp Bastion is the main British military base in Afghanistan.
It's as big as the UK town of Reading and home to almost 30,000 people.