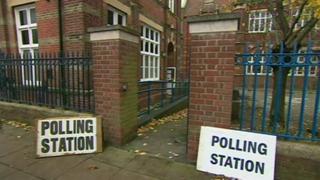 Low turnout for Police election
Just over one in 10 people voted in Police and Crime Commissioner elections across England and Wales on Thursday.
The new Police Commissioners will be in charge of hiring top police officers, called chief constables, and decide which crimes to target in their area.
At one polling station in South Wales, no one turned up at all and it's been described as one of the lowest election turnouts ever.
Prime Minister, David Cameron, said low turnout in a first-time election was expected.
In some areas people were also voting for who their local MP should be and turnout for that was low as well.
The new Police and Crime Commissioners will replace groups of people called police authorities.
The elections took place in 41 police force areas outside London.