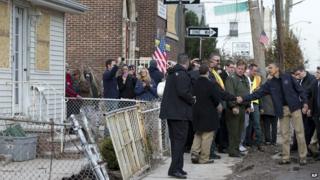 AP
Barack Obama has been visiting New Yorkers who are still without power more than two weeks after 'superstorm' Sandy struck.
The American President met with people who'd lost family members in the storm and saw people as they wait in line to get food supplies.
Lots of homes are still without electricity as well.
Barack Obama said that he'd support and stick with victims "until the rebuilding is complete."