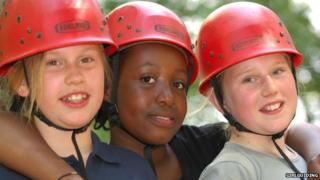 Girlguiding
The head of Girlguiding UK says that no boys should be allowed in, despite girls being allowed into the Scouts.
Since 2007, girls of all ages have been allowed to join UK Scout groups, which traditionally were only for boys.
However the Guides don't allow boys in and the new head of the organisation, Julie Bentley, says that's the way it should be.
We asked you what you thought. Here's a selection of some of the comments sent in.
Your comments
"I'm a Guide and I think it should only be for girls because I have three brothers and it's good to get away from it all and to hang out with all my friends."
Catherine, Lochgilphead, Scotland
"Scouting and guiding are so similar that maybe they should join together as both could learn from the other's skills."
Ameerah, Glasgow, Scotland
"I think boys should not join it is nice just being yourself and not needing to worry about boys."
Cicely, London, England
"I'm part of Scouts, and we have two girls in our troop and some more are joining. It's wrong that the girls can join Scouts but boys can't join Guides."
Marcus, Woking, England
"I am a guide and I love it. I think it is fair that boys are not allowed to join Guides. This is because girls just want to meet up with their friends and talk about stuff...boys are really ANNOYING!!!"
Jasleen, England
"I am a guide and I think it would be good if boys were allowed to join although I doubt any would want to."
Alice, Scarborough, England
"I am a scout even though I'm a girl. I believe boys will see Guides as a 'girly thing' so might be put off joining"
Eve, Chester, England
"I'm at Scouts and used to be in Guides. I dont think boys would want to join as all we did was make bracelets. That's why I joined Scouts"
Lucy, Sittingbourne, England
"I am a guide, and I don't think boys should join. When the scouts was created, there was nothing the girls could join in with...until girl guides started. Scouts should be for boys, guides should be for girls and a new group should be formed for girls and boys"
Zara, Surrey, England
"I'm part of Guides and I have found it great without boys. I don't want boys to spoil my fun!"
Harriet, High Wycombe, England
"I think Guides should be for girls only....Guides was created by girls as boys would not let them join scouts."
Kobisha, Amersham, England
"I am a guide and I enjoy just being with my friends and having fun. Scouts is mostly outdoorsy so it was easy to allow girls in, but guides have more girly badges like 'glamourama' and 'showtime'. It's also quite ironic that in 1998 girls wanted to join scouts but weren't allowed .... and now the boys want to join guides!"
Salix, Camberley, England