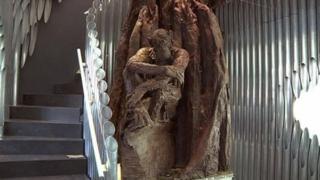 Chocolate tree created in Paris
A chocolatier in Paris has created a five-tonne forest scene made entirely out of chocolate!
The tasty sculpture is five metres tall and stretches over three storeys. It even has sprawling tree roots and resident monkeys.
It was made by Patrick Roger because he wanted to highlight the importance of saving the environment.
The choc-tastic artist has been combining the sweet stuff and art for 30 years.
Check out his tasty creation here! Yum!