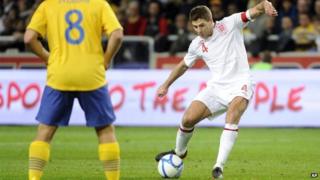 AP
It wasn't quite the big celebration Steven Gerrard was after as he won his 100th cap for England against Sweden last night.
The captain's free kick was bundled in by Stephen Caulker to give England a 2-1 lead at half time.
But in the second half it was the Zlatan Ibrahimovic show.
He scored an amazing four goals giving Sweden a 4-2 win in their brand new national stadium.
Gerrard is one of only six players to play 100 times for England.