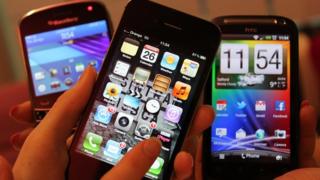 Global smartphone sales are up by nearly 50%, according to the latest figures.
Over 427 million mobile phones were sold across the world in July-September 2012 - which is actually fewer than at the same time in 2011.
But while overall mobile sales are down, probably because of the world's money problems, smartphone sales were 47% more than a year ago.
It means on average, 1.8 million smartphones are sold every day.
South Korea's Samsung is the most popular brand with nearly 23% of all mobiles sold. It's taken the top spot from Finland's Nokia.
American company Apple is the third most popular maker, according to research by the company Gartner.