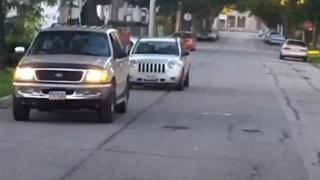 Phone films dangerous driving
A woman in America was made to wear an 'idiot' sign as a punishment for dangerous driving.
Shena Hardin from Cleveland was caught overtaking a school bus by driving on the pavement.
The sign read: "Only an idiot would drive on the sidewalk to avoid a school bus."
Her driving licence was also taken away from her for 30 days and she had to pay $250 in court costs.