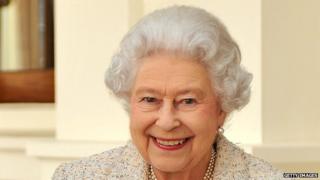 Getty Images
The Queen has added a tablet computer to her Royal Collection for the first time.
The Royal Collection is made up of art, furniture and other items collected by past kings and queens over hundreds of years.
The touchscreen device contains videos, photos and writing by people sharing their memories of the past 60 years.
Thousands of people from 66 countries took part in the project, including Prince Harry.
'Digital time capsule'
Only 60 memories could fit on the tablet, but organisers say the complete library of 80,000 entries will be available online forever.
The most popular event described by people who took part was the Royal Wedding of Prince William and Kate Middleton in 2011.
There's also a video of a teenager rapping about the riots in London in the same year.
The project has been called a 'digital time capsule'.
The tablet computer will be stored at Windsor Castle, which is one of 13 buildings where the Royal Collection is kept.