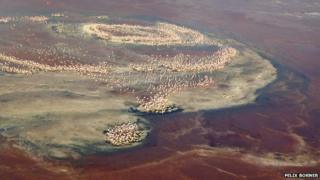 Felix Borner
Scientists predict this year's flamingo breeding season could be the most significant since 2007.
Up to a million flamingos migrate to Lake Natron in Tanzania to breed each year.
Three-quarters of the world population of lesser flamingos live in East Africa and use the lake as their nesting site.
The lake has islands where the birds raise young away from predators like hyenas but if the water is too low the birds abandon their nests.
Lesser flamingos are the smallest, but most common, species of flamingo.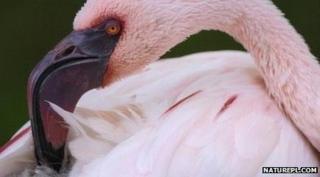 NAturepl.com
The birds fly in huge groups from other areas in Africa.
Dry weather caused drought in recent years which meant the birds did not have very successful breeding seasons but this year conditions look better.
Sarah Ward from the University of Southampton is studying flamingos and said:
"If this [breeding] attempt is particularly successful it will be a good boost for the flamingo population, but with so many potential hurdles to overcome we will have to wait and hope for good conditions."