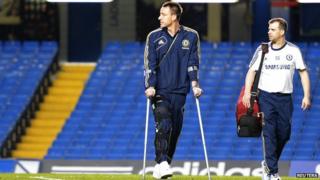 Reuters
Chelsea captain John Terry will be out for "weeks rather than months," the club said.
Terry was stretchered off the pitch after colliding by accident with Liverpool's Luis Suarez in the teams' 1-1 draw on Sunday.
A scan showed there was less damage to his right knee than first feared.
Terry, back after a four-match ban, scored before being taken off after 39 minutes.
He later left Stamford Bridge on crutches with his knee in a brace.